Dylan's historic performance at Newport '65 isn't planned. The personal accounts suggest a relatively spontaneous event. He
does
rehearse with members of Butterfield band for a few hours, but it seems plausible that he doesn't arrive at the festival with the explicit intention of playing an electric set. Regardless of the background speculations, his performance is still widely viewed as a pivotal experience for Dylan, his fans, Butterfield, and for popular music in the 20th century. His behaviour is one of the things that distinguishes important artists from the mediocre. They have the ability to change the direction of their art, and they do it.
However, after Newport, Dylan does make the calculated decision to record his sixth album
Highway 61
Revisited
. It's an
electric
album which capitalizes on the sense that his audience is ready for change. In addition to it becoming another one of Dylan's many important contributions to the evolution of popular music; it earns his label,
Columbia
, yet another success story to their own history. Consequently, it shouldn't be a surprise that other labels try to capitalize on the album's success.
While the world is talking about Dylan's music, a young singer songwriter from Monroe, Wisconsin writes two songs in the the Dylan style, and then submits the demos to a
Columbia
competitor,
Mercury Records
.
Mercury's
A & R people like the songs, and make a conscious business decision to record an album with Dick Campbell as
the
rival to Bob Dylan. So, they contract ten more Dylan-esque songs from Campbell, and recording sessions are booked.
Then in an effort to capture
the Dylan sound
, the album producer Lou Reizner, hires Butterfield, Bloomfield, Lay, and Naftalin for the sessions. (The bass duties are filled by a young Peter Cetera who will go on to front the horn based rock band
Chicago
.)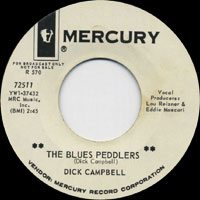 The end result is a
pleasant enough
sounding album, and you
will
definitely hear the attempt to emulate
Dylan's sound
in every song. Personally, I find the songwriting too unambiguously introspective. Each song is a testimonial about Campbell's volatile romance with his girlfriend, and it is obvious.
Dick Campbell, Sings Where It's At does initiate some artistic accolades for Campbell. It also proves to be a respectable financial success for Mercury, but for some reason, the label fires him after this one project. Personally, I don't know if it's because the Butterfield is mixed down, or that everything from the guitar to the organ sounds too much like Highway 61 Revisited, but the whole exercise wreaks of a cold, crass commercialism. However, Campbell doesn't completely drop out of sight, he carries on to moderate success in the entertainment business as an A & R man, a poet, and screenwriter.
Track List:
1)
The Blues Peddlers, 2) You've Got To Be Kidding, 3) Sandi, 4) The People Planners, 5) Aphrodite's Child, 6) Despairs Cafeteria, 7) Approximately Four Minutes Of Feeling Sorry For D. C., 8) Object Of Derision, 9)Where Were You, 10) Girls Named Misery, 11) Ask Me If I Care, 12) Don Juan Of The Western World.
Personnel:
Dick Campbell, vocals, rhythm guitar, Mike Bloomfield, 12 string guitar, Pete Cetera, bass, Mark Naftalin, organ, Marty Grebb, tambourine, piano, finger cymbals and percussion, Artie Sullivan, tambourine and vocals, Paul Butterfield, harmonica, Billy Herman, drums, Sam Lay, drums, Larry Wrice, drums.
Dick Campbell, Sings Where Its At
has never been available on CD , but does seem to have a small cult like following. I have included a YouTube video of one track here, and if you are interested in hearing the rest of the album, it is available on YouTube or his website.